Plain and simple, us humans absorb visuals faster and more accurately than text. We're visual beings by nature, cemented in the fact that 90% of the information transmitted to our brains is visual. It's why we continue to see an increase in these types of elements on the internet. People statistically engage more with things like photos, videos, and infographics. So it makes perfect sense that visual search is on the rise.
Visual search is expected to have a huge impact on ecommerce, transforming the way customers shop online and increasing expectations for the overall customer experience. As online shopping grows, so does the demand for more intuitive and efficient ways to find what one's looking for. 
Attempting to shop through a Google search is no longer the best way to discover new products. Increasingly, more consumers are leaning on platforms like Instagram and Pinterest to find what they're shopping for. In fact, 90% of weekly Pinners use Pinterest to make purchase decisions. As technology improves, keeping up with these consumer trends will be vital to staying competitive with other online businesses. 
When we talk about visual search, we're not just referring to searching through Google images. So what exactly is visual search? Put simply, it's a technology that uses artificial intelligence to search the internet using images instead of text. Consumers can search for whatever they see using these search tools, and are handed results that are often much more relevant than what they would find searching with keywords (especially if they're looking for something that's difficult to describe). 
Over the past decade, scientists have come a long way in developing what's referred to as neural networks to teach computers to work similar to a brain. Neural networks are a mathematical system that's able to analyze data and establish patterns. Basically, computers are fed a bunch of data and images and eventually they begin to recognize things. In this way, they're basically learning how to "see" and "understand". 
Visual search platforms work by taking internet images, screenshots, photographs, or live footage from your device's camera to search for relevant information. Their capabilities include identifying plants and animals, finding products, and even translating text into different languages.
From an ecommerce standpoint, online stores that sell home decor, fashion, beauty products, and food have the biggest opportunity to capitalize on visual search. As phones get smarter, artificial intelligence improves, and consumer interest grows, this type of search tool will increasingly become the norm.
As of now, there are a handful of big players in this field. Here's five of the main visual search platforms currently operating: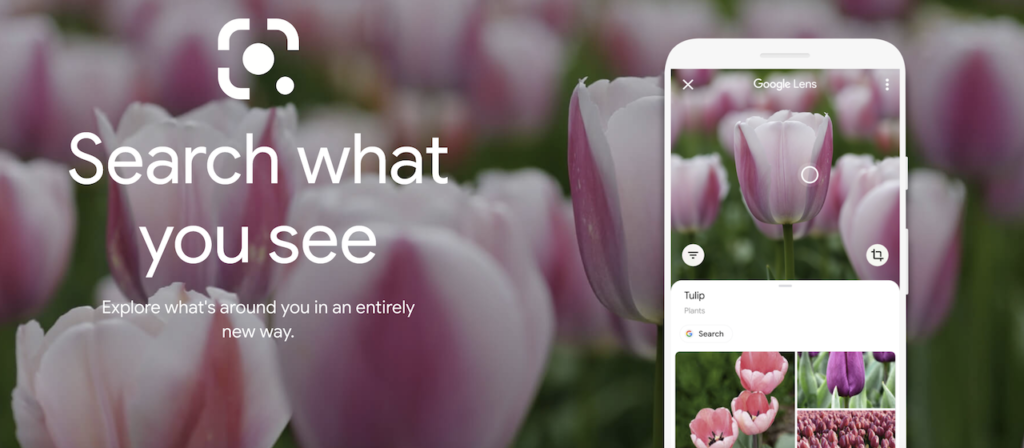 Google Lens allows users to search for things they want to buy, translate text into other languages, find out what's popular on restaurant menus, learn about local landmarks, and identify plants and animals.
The app is built into Google Pixel phones and can be accessed through the Photos and Maps apps on the phones, as well as through Google Assistant. With Google Maps, you can scan the street with your phone's camera to learn about local businesses. People walking around a city can use it to find places to eat, drink coffee, or shop. This makes it an invaluable tool for small local businesses.
You can also use visual search when you choose image search on Google. When you do an image search, you have the option to upload a photo or type in an image url by using the camera icon in the search bar.
Pinterest Visual Search Tool
Pinterest really got on at the forefront of visual search. The company invested quite a bit in machine learning and computer vision to improve functionality and user experience. With their search tool, you can use your camera's phone to search for items in the real world. 
They came out with shoppable pins and "Shop The Look" pins, which were the first visual shopping tools of their kind. A year after the Shop The Look release, it had performed 600 million visual searches every month. 
Pinterest Lens allows users to click and drag around a pin to peruse specific parts of an image or use their own photos to find similar pins. Their software boasts the ability to identify 2.5 billion images and counting. 
Bing's Visual Search Platform
When you go to Bing.com on desktop or mobile, you'll find a little camera symbol in the right corner of the search box. If you click on the icon, you have the option to upload an image, use an image url, or take a photo with your device's camera.
This tool will attempt to identify the object you scan as well as come up with related products. It also allows you to draw a box around an individual item if you want to focus on specific parts of your image.
Amazon allows other apps to shop through them, including Snapchat and Instagram. If you see something in a store, you can snap a picture of it in the Amazon app and it'll show you all the relevant products available on their site. They're also combining visual and voice search with products like Echo Show.
Made by Samsung, Bixby Vision is pretty similar to Google Lens. It allows users to search for products, learn about the world around them, and translate text instantly. Perhaps one of their strongest features is that this search tool offers greater accessibility by vocally describing what it sees.
Why visual search matters
The business research group Gartner estimates that early adopters will see a 30% increase in their digital commerce revenue. They believe marketers that catch on will see an increase in conversion rates, revenue, new customers, and customer satisfaction.
These estimates make sense when you see that around 60% of millennials surveyed want visual search and shoppable content to be a part of their digital shopping experience. 
Visual search can help with the product discovery process, reducing the impatience among customers wading through irrelevant content. The thing is, it's a helluva lot easier to find a product you're looking for if you can just snap a picture of it and hit 'search'. Manual keyword searches can unfortunately be a lot less successful. In fact, according to a study put on by ViSense, 96.6% of their study participants gave up after spending just a minute and a half attempting to find a specific product using keywords.
The bottom line is, if you're an online retailer, you need to get with the program here. Images are converting machines – your product images can be a determining factor in whether or not someone chooses to buy from you. And, if customers can find those images through visual search, you're in a good position to capitalize on this growing customer base.
How to use visual search in your marketing
If you're an ecommerce brand, you've got to get ready for this growing trend. Here's 5 ways to get yourself set up to rank for visual search:
1. Use high quality, appropriately sized images
Quality images with high resolution will rank better on search engines. Plus, potential customers are more inclined to click on appealing images that clearly show what they can expect from a product. It's also important to use multiple images for your products, showing different angles, because customers may be searching images taken from different perspectives. 
Keep in mind that it helps to showcase images that are free of clutter so that AI can tell what's in the photo! And of course, be sure to use your own unique images as opposed to stock photos. 
Use appropriate sizes and always compress images. If they're too big, they'll slow down load time and that'll affect your SEO. Using an image compression plugin will help you reduce your file size while maintaining quality. You want to make sure the pages with your images load quickly and are mobile-responsive.
Google ranks images for these factors: Quality, content, authority, relevance, freshness, and context.
2. Name your images properly
Consider the file name of your images. Instead of keeping them the way they upload to your computer, name them something descriptive. For example, a photo of your latest summer dress might upload with a file name that's something like IMG_12345.jpg. You'll want to change it to something that describes the product using keywords, like red-summer-dress-with-pockets.jpg. (Yes, we all want more dresses with pockets!) Use underscores or dashes to separate words.
3. Use descriptive alt text on your images
Alt text should always be used on all your images! This will help your SEO and increase the accessibility of your site. Use your targeted keywords in your alt text, including language that clearly describes what the image is about. Captions are also a good call if any of your images require additional explanation. 
4. Add images to your sitemap
5. Invest in Pinterest ads
Ok, look. Pinterest is rockin' strong conversion rates for image searches on a site that's completely made up of images. They report that half of all Pinners have made a purchase after seeing a Promoted Pin. Nearly half of Pinterest's users say that shopping is their top priority for using the platform. "Shop the Look" pins carry a lot of potential for online sales, directing customers straight to pages where they can make purchases. 
But there's more – 98% of Pinners have tried something they discovered on the platform and 83% have made purchases based on brand content. If your business is super Pinterest-worthy (I'm thinking fashion, jewelry, beauty products, etc), you should really consider testing out Pinterest ads.
There's one more thing you can do to capitalize on visual search, but it's a little more technically involved. Using structured data on your website will help tremendously. It involves getting into your site's code, so if you're not comfortable with that, you may want to consider getting help from a company that specializes in technical SEO.
Visual search is just starting to take off. There's exciting new things in the works that will have a huge impact in the world of online retail. We're starting to see features where customers can "try on" different looks using augmented reality to test out how things will look on them. The more people use these features, the better the technology will be, and the better the tech is, the more popular it will become. Word of advice – hop on now and be ahead of the game!
Feature image from Aspire Systems